Halloween brings with itself waves of happiness and excitement that is quite synonymous with the child-like jubilant spirits of the kids. Kids and Halloween go hand in hand. So, before everyone else and everything else we need to complete the shopping for the kids. This first step might sound easy but trust me shopping for Halloween costumes for kids is not so easy. Hence, to ease your pressure and help you choose from the best collection of Halloween costumes, let me introduce you to some scary, creepy, and cute Halloween costumes for kids.
Captivating Halloween Costumes for Kids
#1. Joker Costume:
Joker costumes make a classic statement for Halloween and most importantly kids love this. All you have to do is simply buy one and put on some attractive Halloween makeup.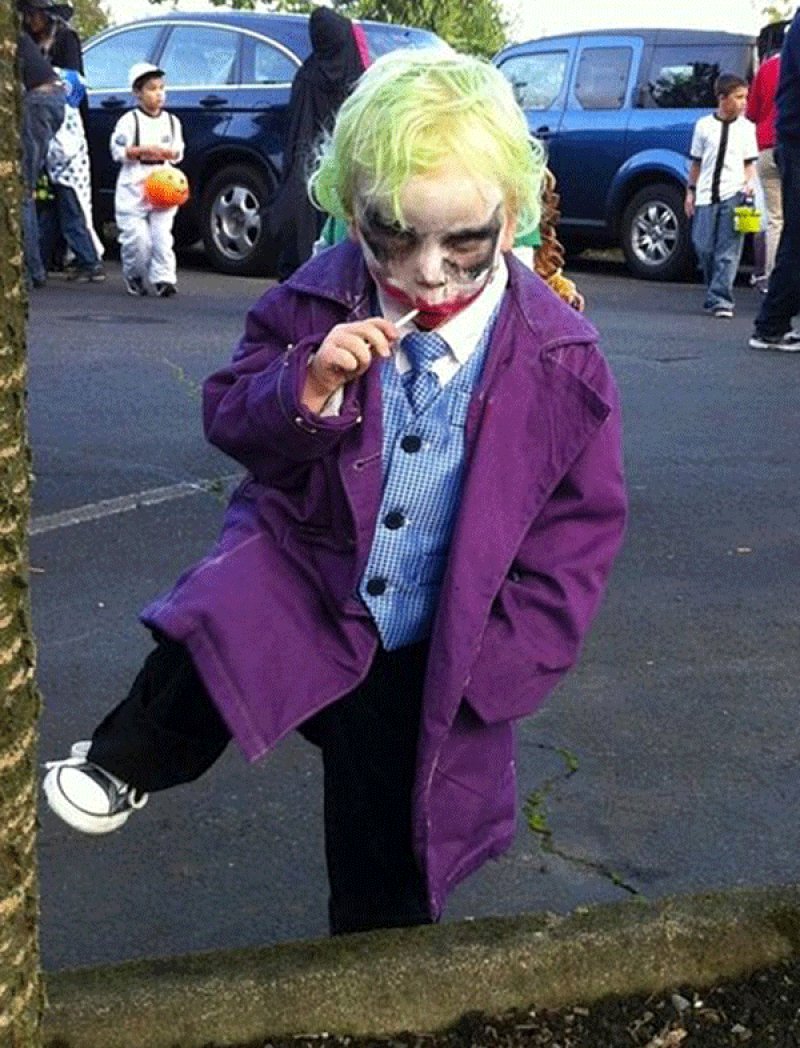 pic source: mommyshorts.com
#2. Man Cut in Half Costume:
This costume is really easy to make and your kid would love to intimidate his friends with this cute and charming costume. You can easily find the instructions and make it yourself.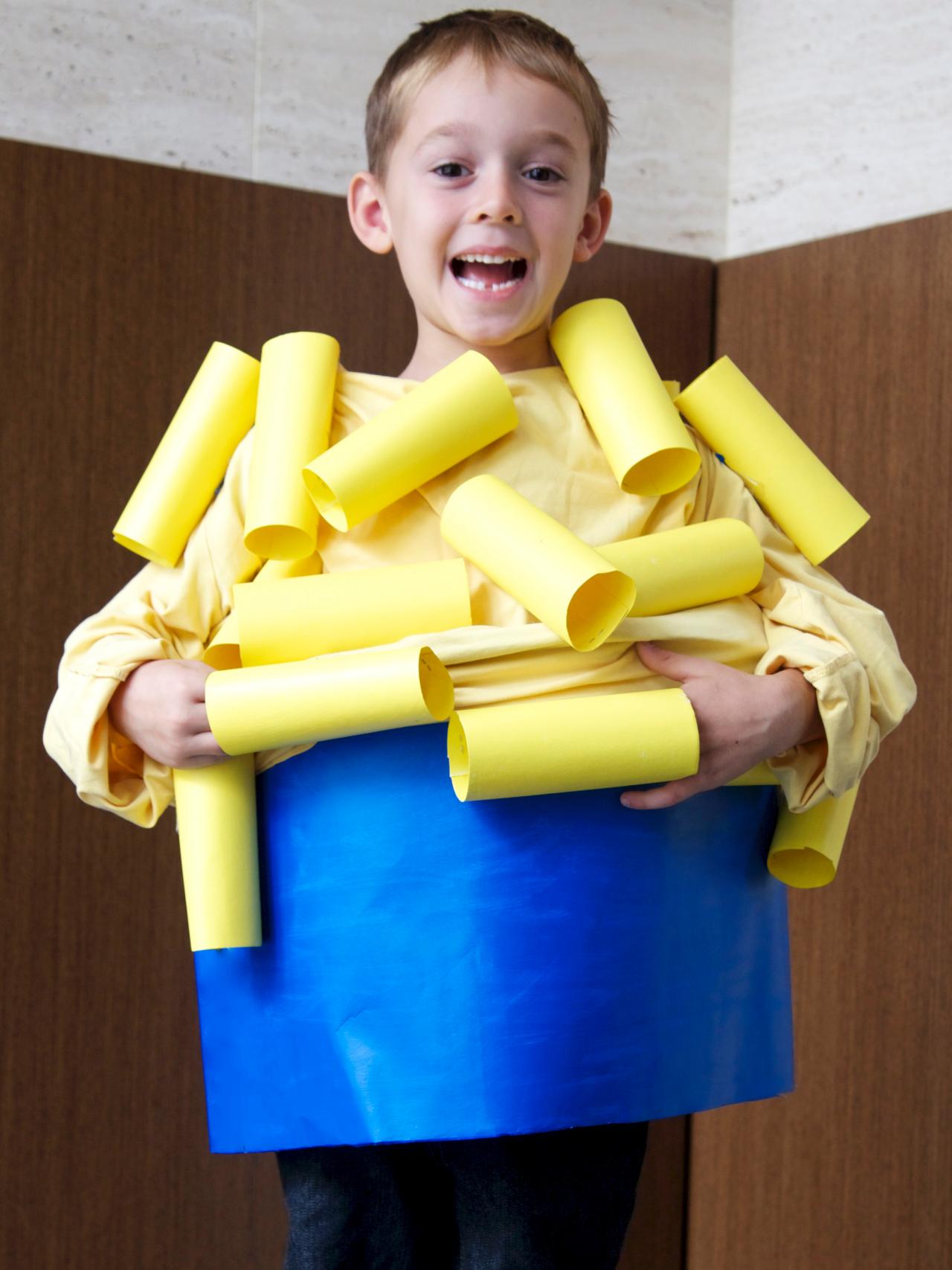 Get the tutorials at diynetwork.com
#3. Freaky Contortionist with False Legs:
You can make this freaky contortionist costume easily at home and to add a more scary effect just attach a false leg over the head.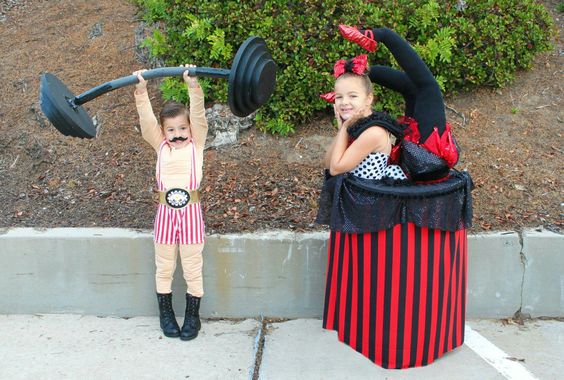 pic source: pinterest.com
#4. DIY Salad Costume:
This DIY Salad costume is insanely easy and looks incredibly cute. All you have to do is turn your kid into a  - fake - salad and make him or her hold a pair of a knife.
pic source: coolest-homemade-costumes.com
#5. Caterpillar Costume:
Reuse old blazers to make freaky caterpillar costumes. These easy-to-make adorable Halloween costume is gonna make your kid look cuter than they are.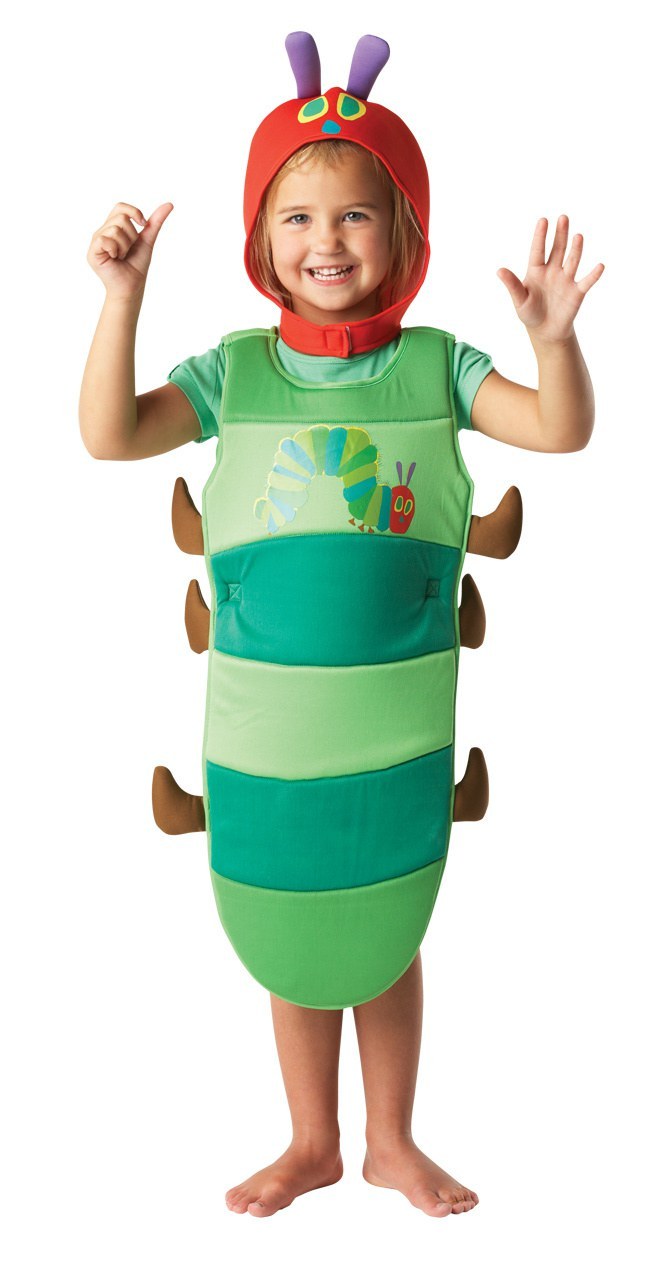 pic source: thecostumeshop.ie
#6. Miss Piggy Costume:
Make your little girl your farm animal with this cute and captivating Miss Piggy costume.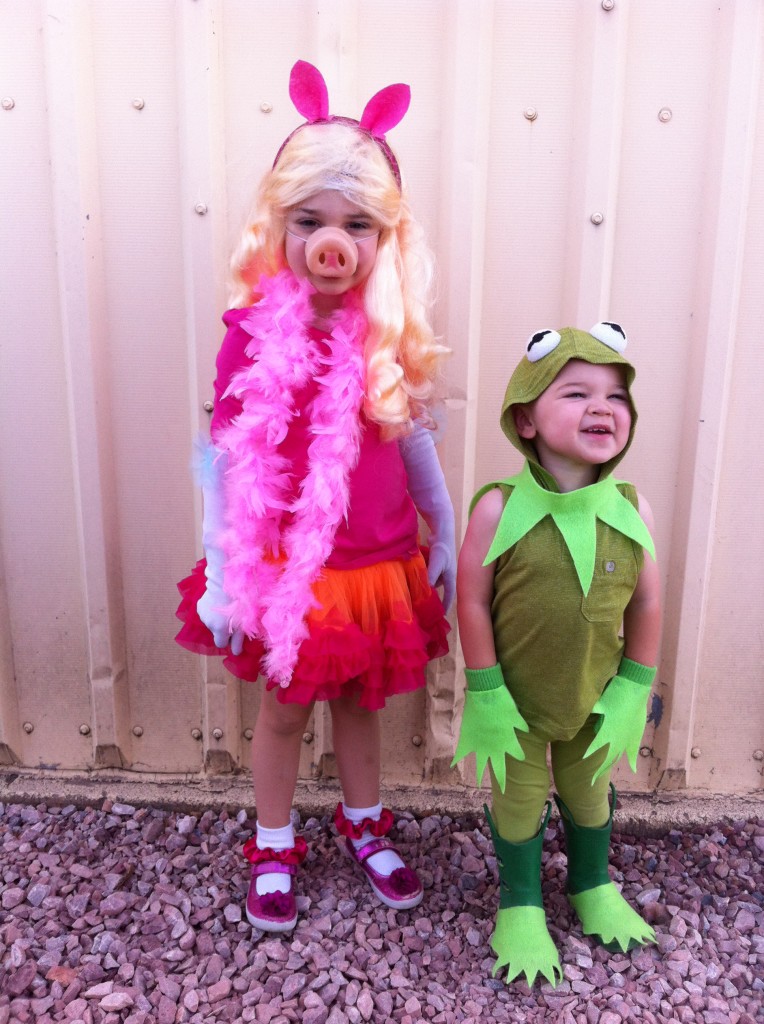 pic source: theblessyourheartblog.com
#7. Scarecrow Costume:
A cute and adorable scarecrow costume is the perfect way to protect your child from the evil witches living next door. Try this scarecrow costume this Halloween and don't forget to dress them up in a spooky way.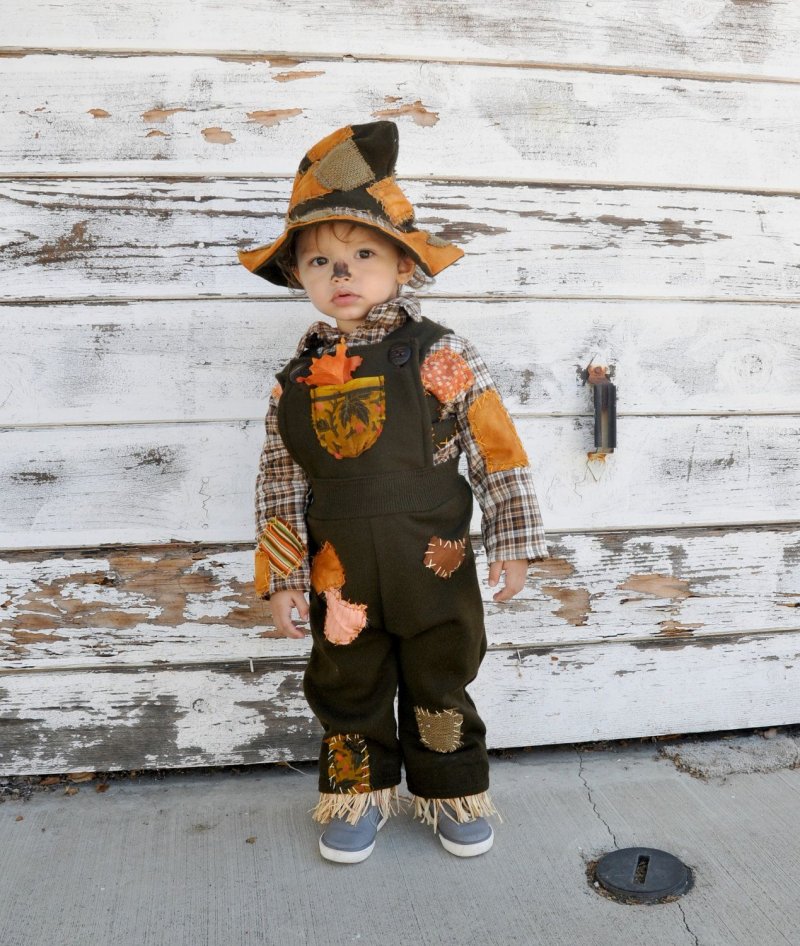 pic source: pinterest.com.au
#8. Albert Einstien Costume:
Allow your kids to resemble or perhaps be the genius - of Albert Einstien. You can give him that freaky hair-do and write E=mc square on his T-Shirt.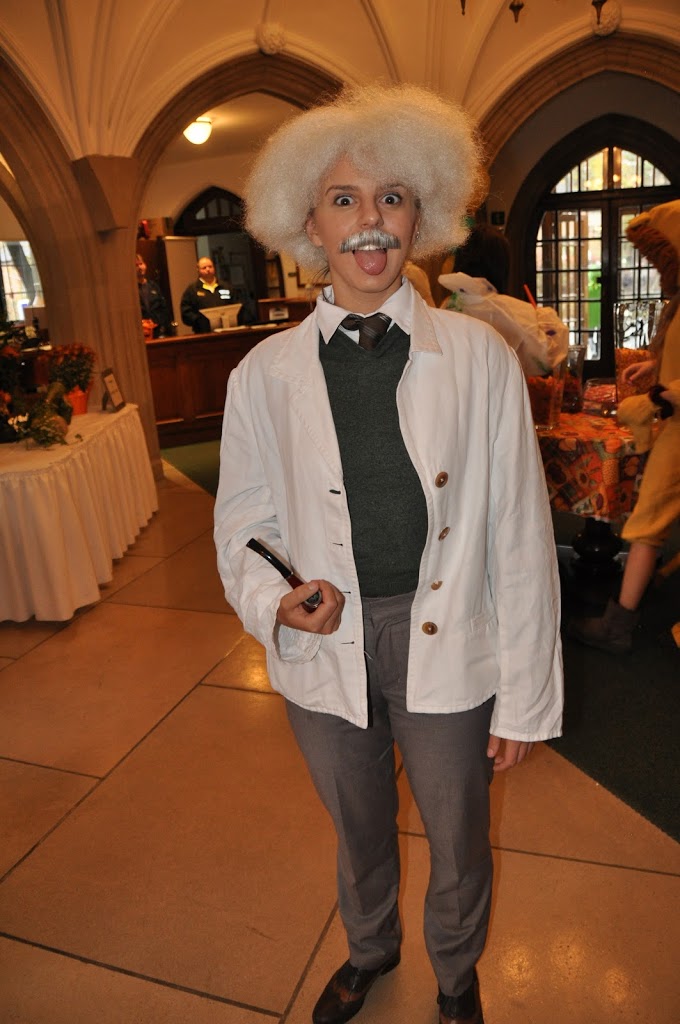 pic source: annelangford.com
#9. Granny Costumes:
Granny costumes are a perfect fitting for Halloween. They have their special way to scare. All you can do is buy this costume and put on a mask with wrinkles or just add a pair of old glasses along with a walking stick.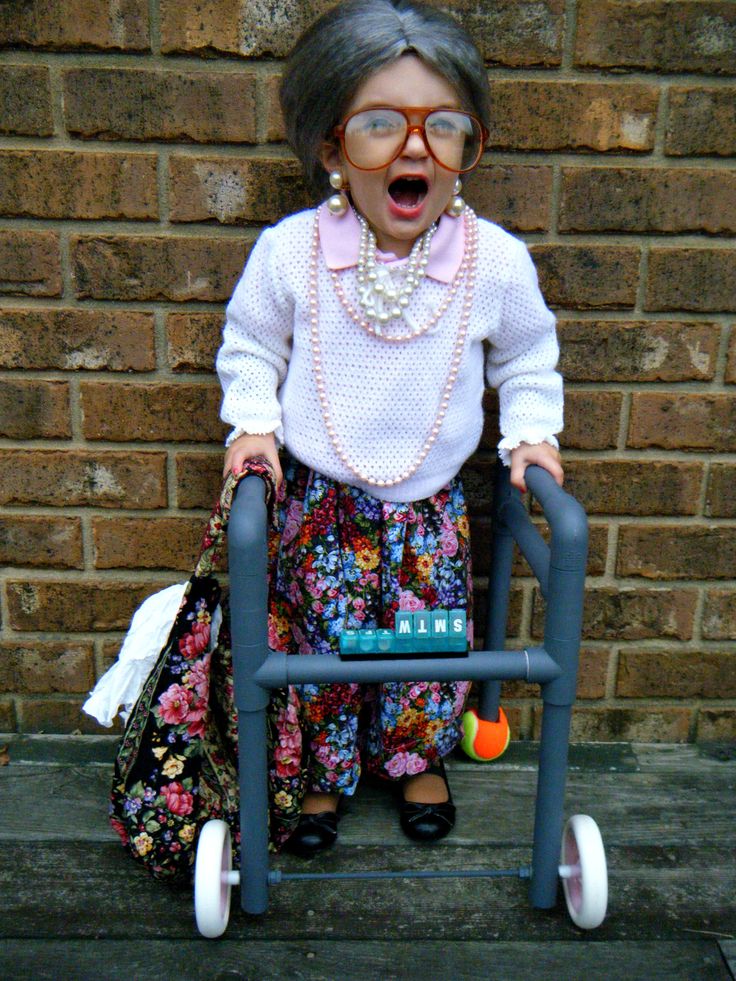 pic source: nbnike.com
#10. George Washington Costume:
You can dress up your toddler boy outfit and give him the shining presence of the most successful president of the United States.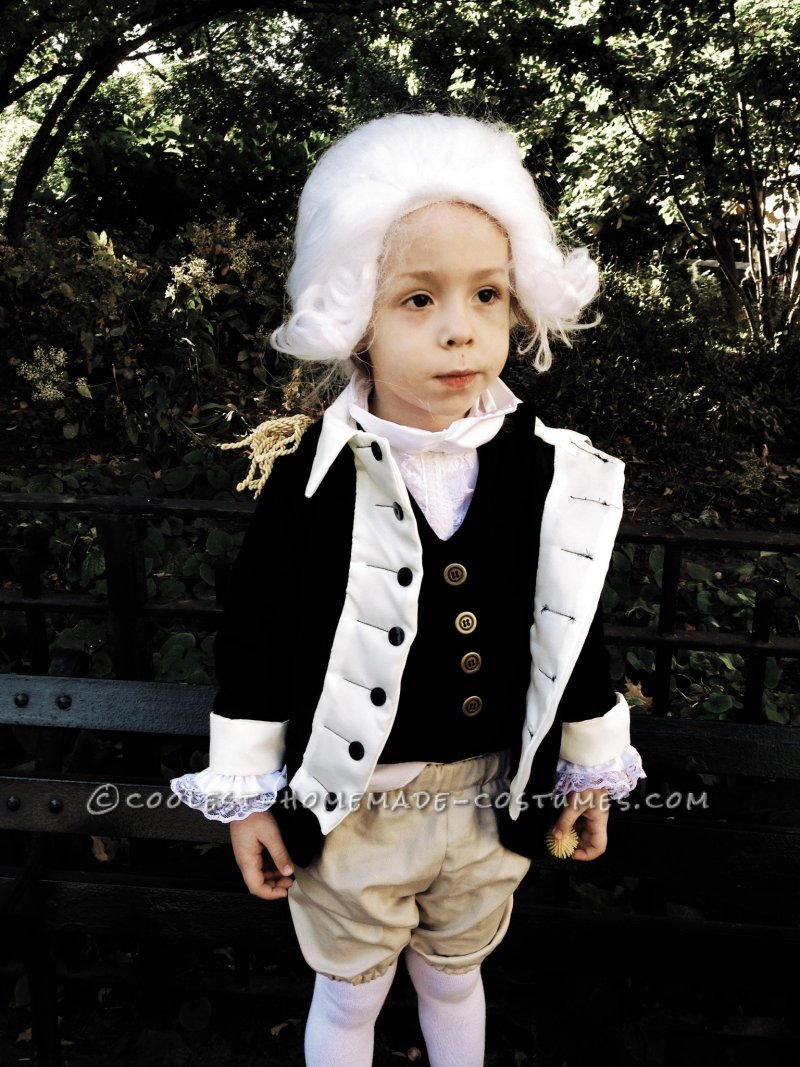 pic source: coolest-homemade-costumes.com
#11. DIY Cake:
You can dress up your toddler in a cake costume. A double-tier cake that has blood spilling out from its sides. This costume is definitely gonna terrify all her friends.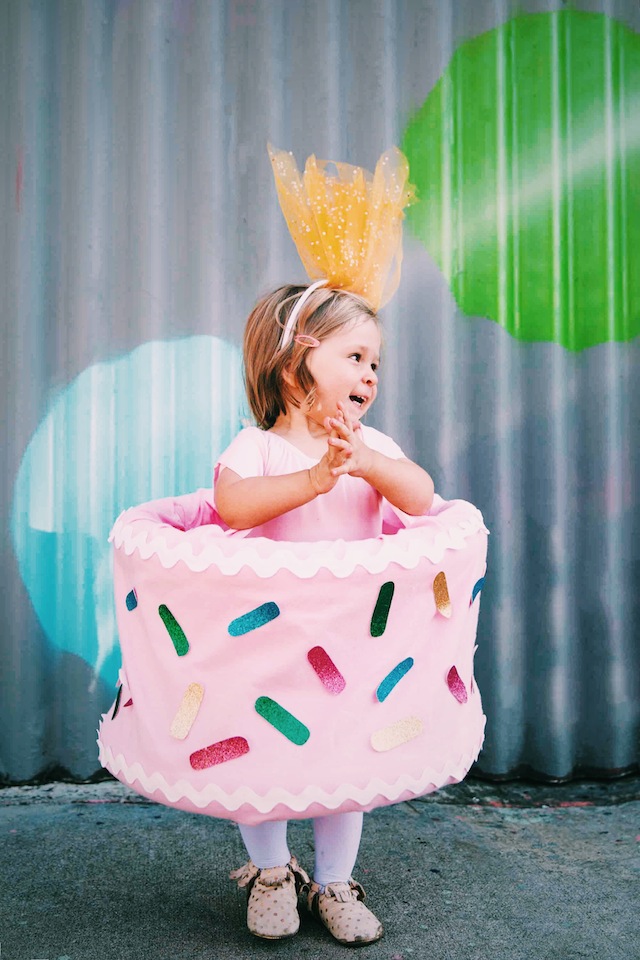 pic source: theeffortlesschic.com
#12. Bunny Costume:
Bunny Costumes are unbelievably cute and they add a charming presence to your kid. Moreover, these cute bunny costumes are extremely adorable.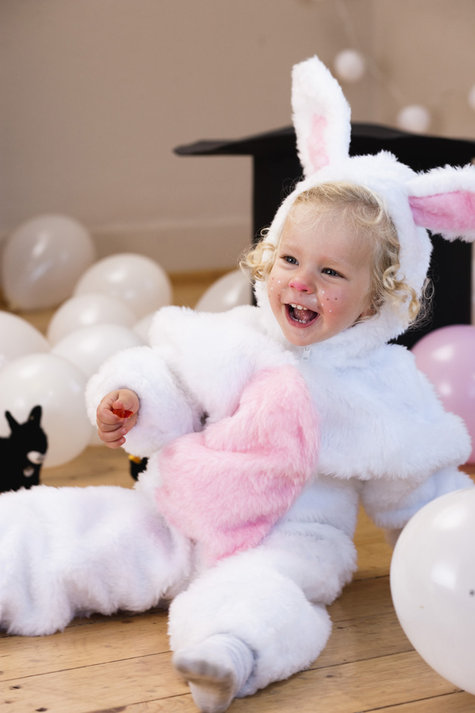 pic source: burdastyle.com
#13. Shark Costume:
If your kid loves adventure and thinks about seeking thrills then dress him up in this scary shark costume. You can add blood around his face and allow your kid's head to pop out from the toothy grin of the shark.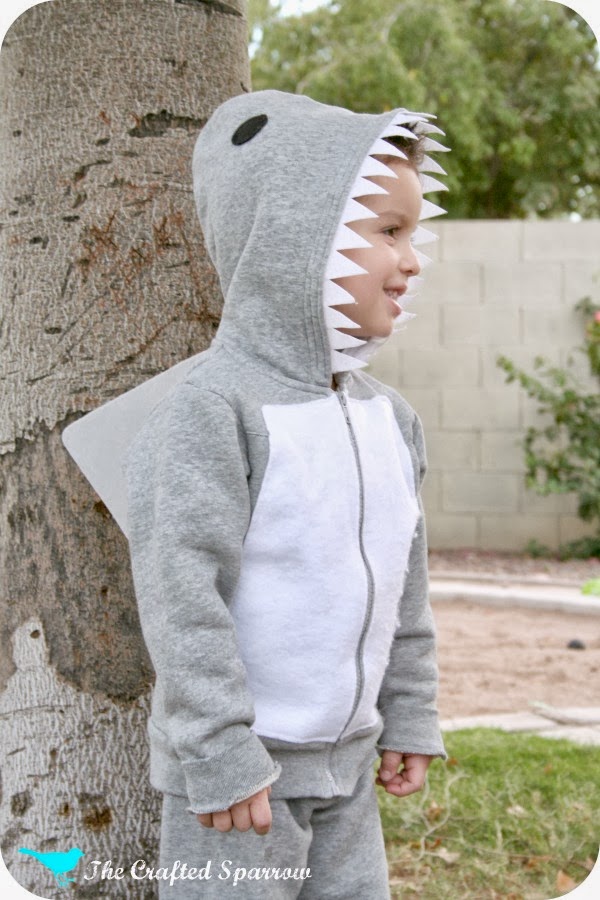 pic source: thecraftedsparrow.com
#14. Baby Centaur Costume:
Make a baby centaur costume for your baby boy. It is gonna look exceptionally adorable on him. This costume is creepy and adorable at the same time.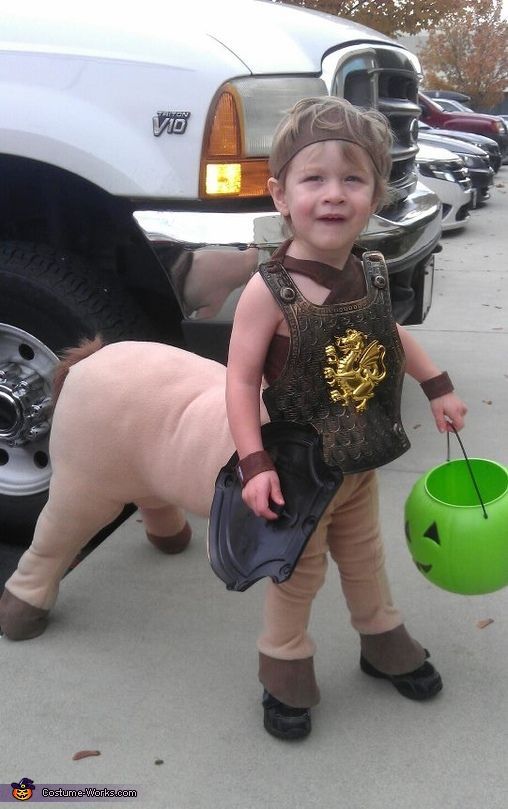 pic source: costume-works.com
#15. Little Mermaid Costumes:
Mermaids might have that dreamy and other-worldly presence to them but they are incredibly scary to look at. The scales on their body is inspiring enough to prepare a similar mermaid costume with scales for your little girl.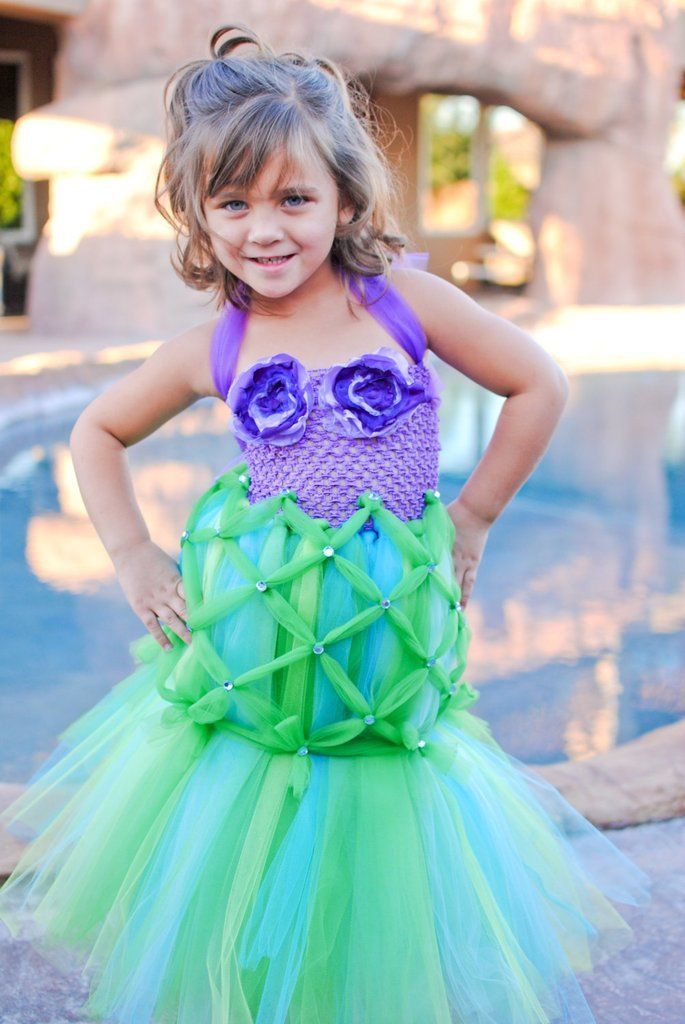 pic source: popsugar.com
#16. Crazy Cat Lady Costumes:
You can create your baby girl into a crazy cat lady who has baby cats sticking around her dress. Her outlook would definitely take people by surprise.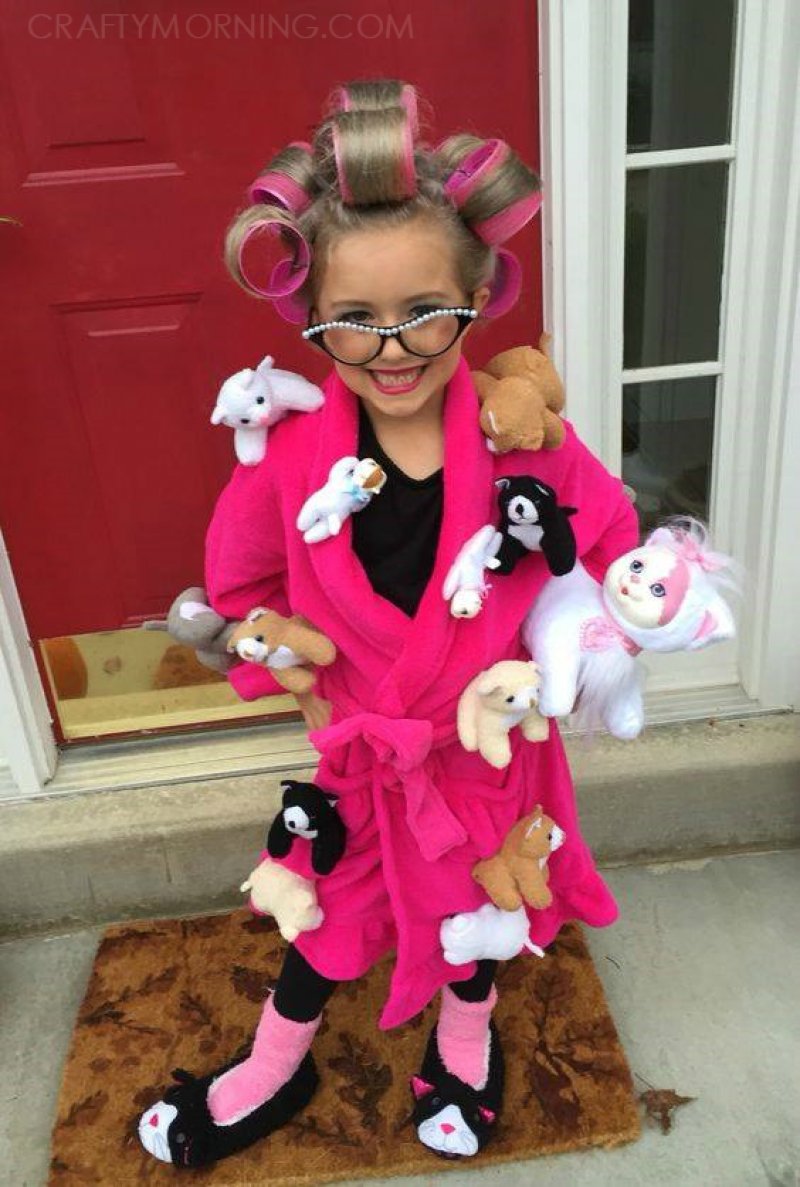 pic source: craftymorning.com
#17. Wonder woman costume:
Wonder woman costumes are one of the most popular Halloween costumes be it for kids or adults. You can buy this costume for your kids and make them look sharp and stunning.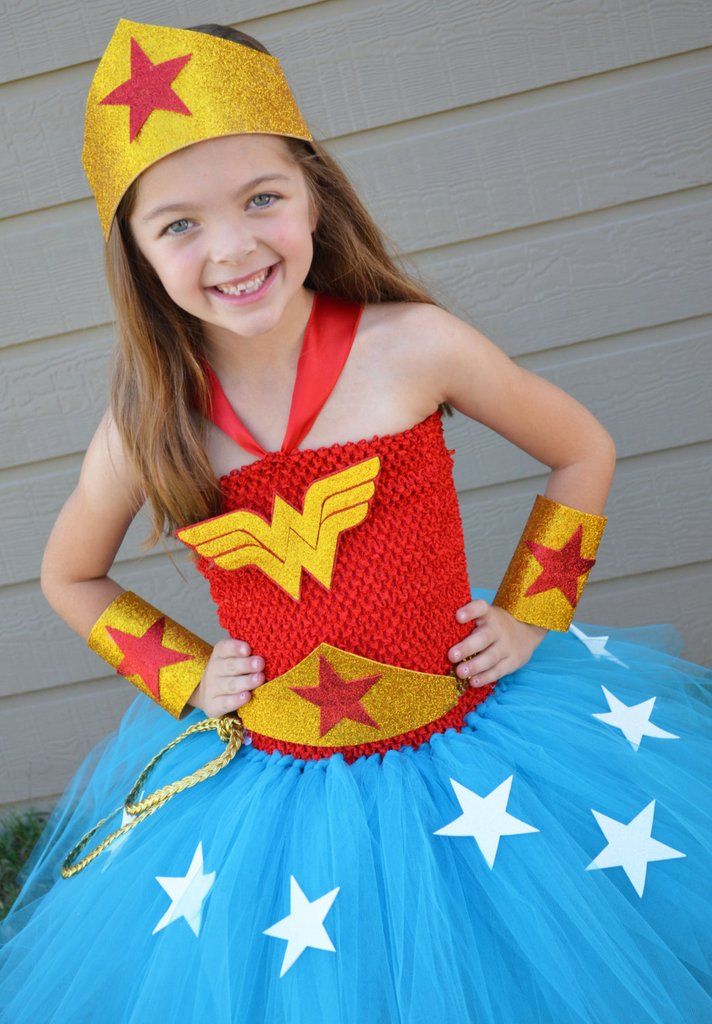 pic source: popsugar.com
#18. Batman Costume:
Batman has always been that childhood idol who has inspired us to the core. I'm sure that we would unanimously agree that at one point in our childhood we've all wanted to be Batman. This Halloween put an end to dreaming and get that inspiring Batman costume for your kids.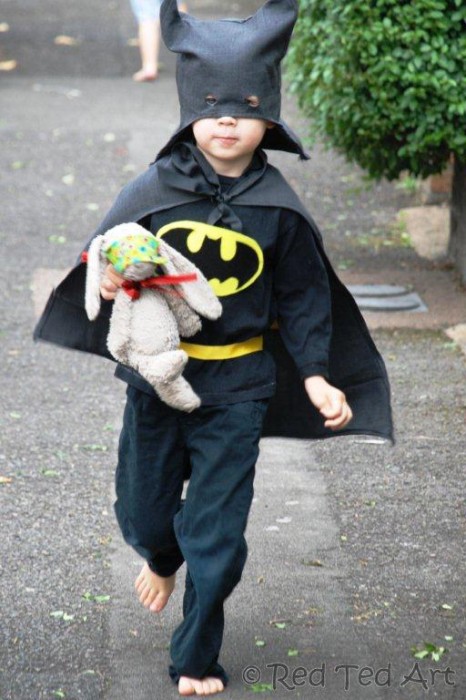 pic source: redtedart.com
#19. Twister Tornado Costume:
Trust me this creative and easy-to-make Halloween costume is gonna get more and more popular in the upcoming year. Do you want to know why? It's because there is hardly any dress as cute as this. They are simply awesome.
pic source: accuweather.com
#20. Snapchat Filter Costumes:
Thanks to snap chat that these days getting a costume idea has become so easy. If your toddler is obsessed with snap chat allow them to play with these crazy and creative snap chat filter costumes.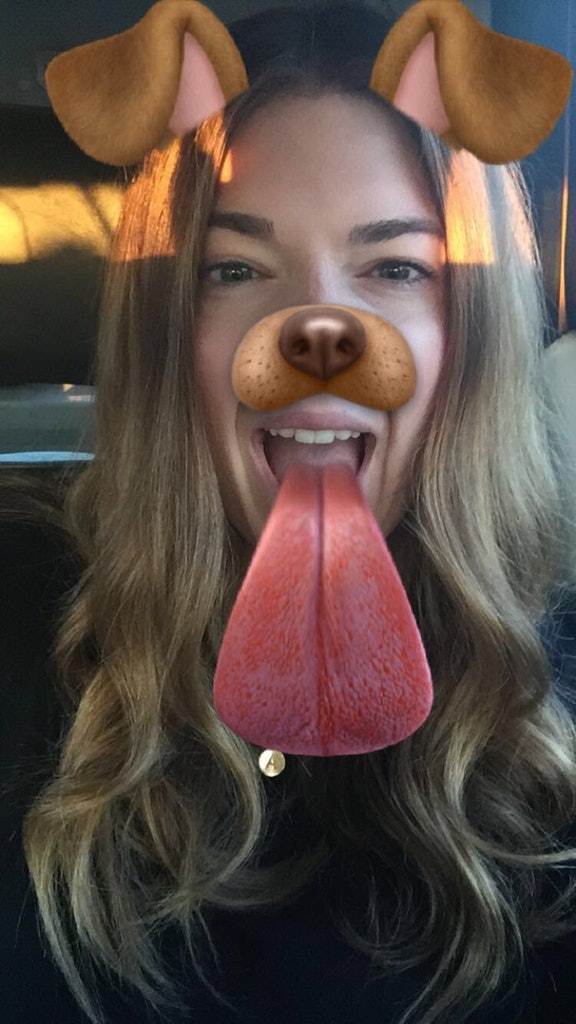 pic source: romper.com
#21. Mushroom Halloween Costume:
Mushroom Halloween Costumes can be easily found online or in the markets. You can buy these Mushroom Halloween costumes and accentuate the cuteness of your baby girl.
pic source: wispyhouse.blogspot.com
#22. Jar of Sprinkles Costume:
Get an optical illusioned costume for your child. A jar full of Sprinkles is a wonderfully creepy and happy costume that your child will have lots of fun wearing.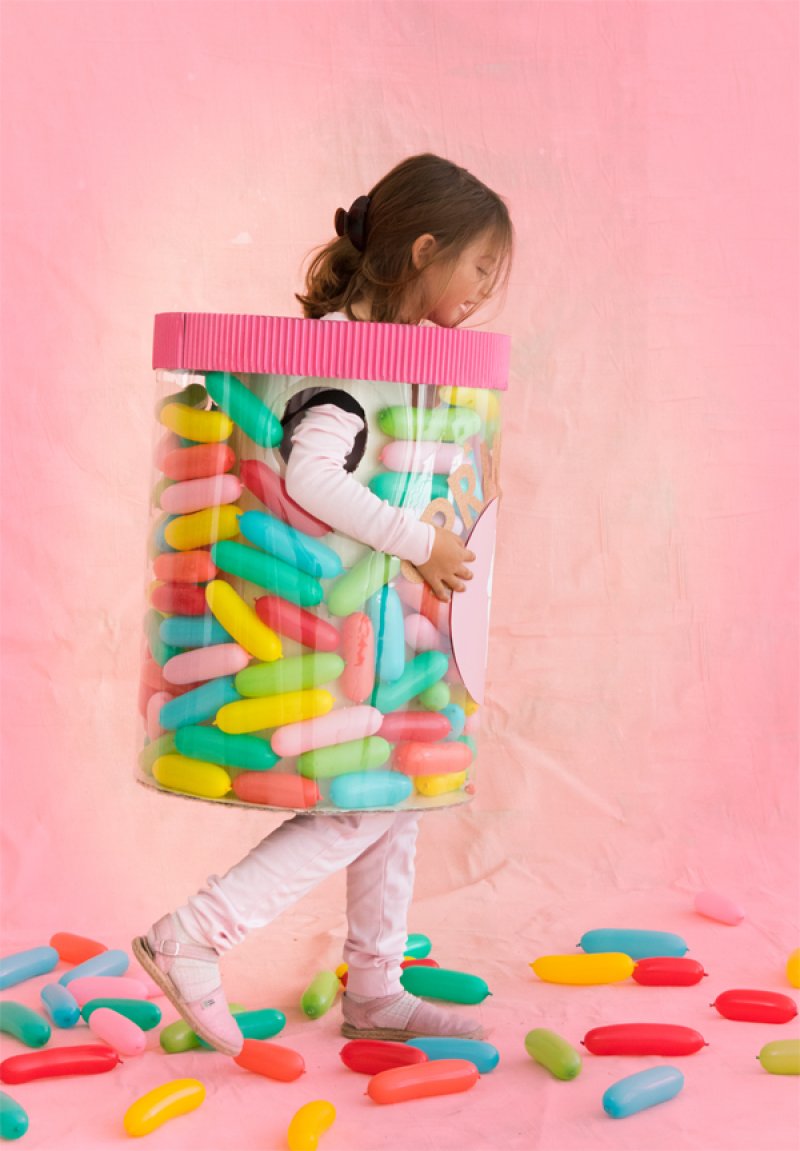 pic source: ohhappyday.com
#23. Bloody Axe Costume:
Get your child a gory ax with blood stains all over the clothes. Top it off with a red wig and some horrifying make-up scars on the face.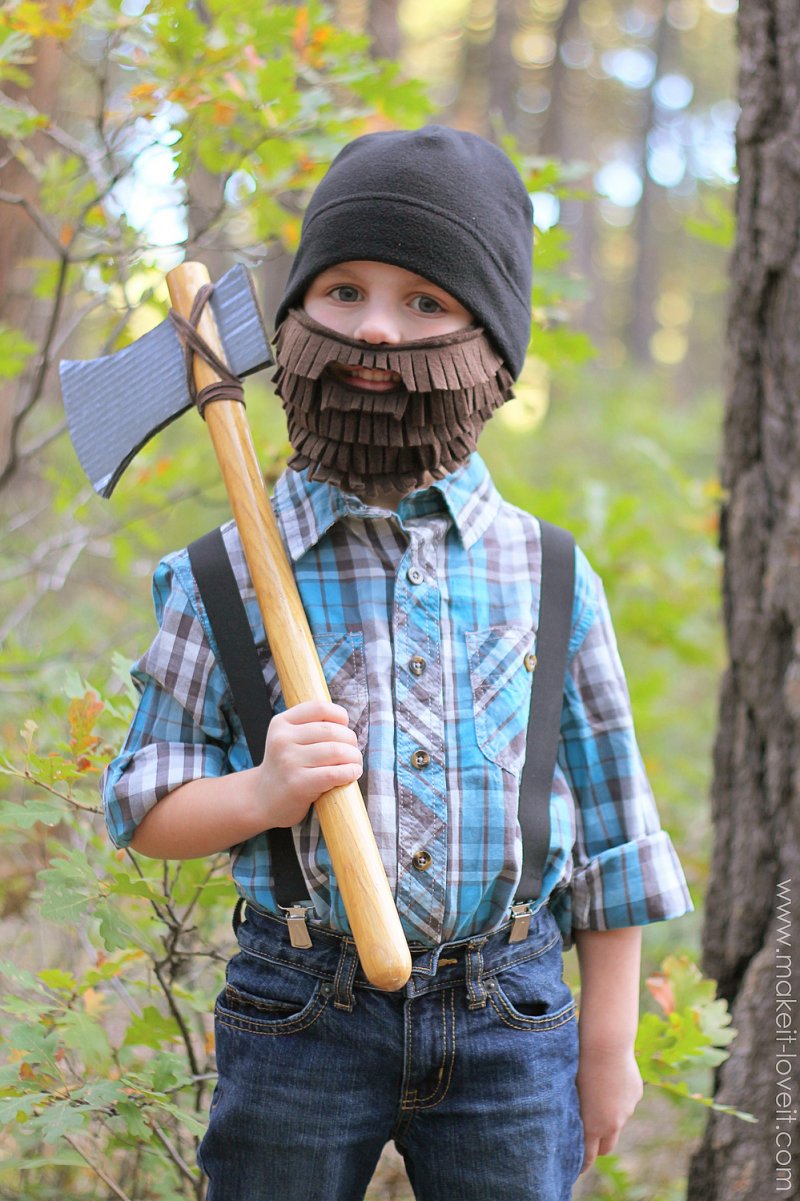 pic source: makeit-loveit.com
#24. Alien Costume:
You can turn your child into an otherworldly alien with easy-to-buy and make an alien costume. These costumes will make your kid stand out from the rest of the kids in your block.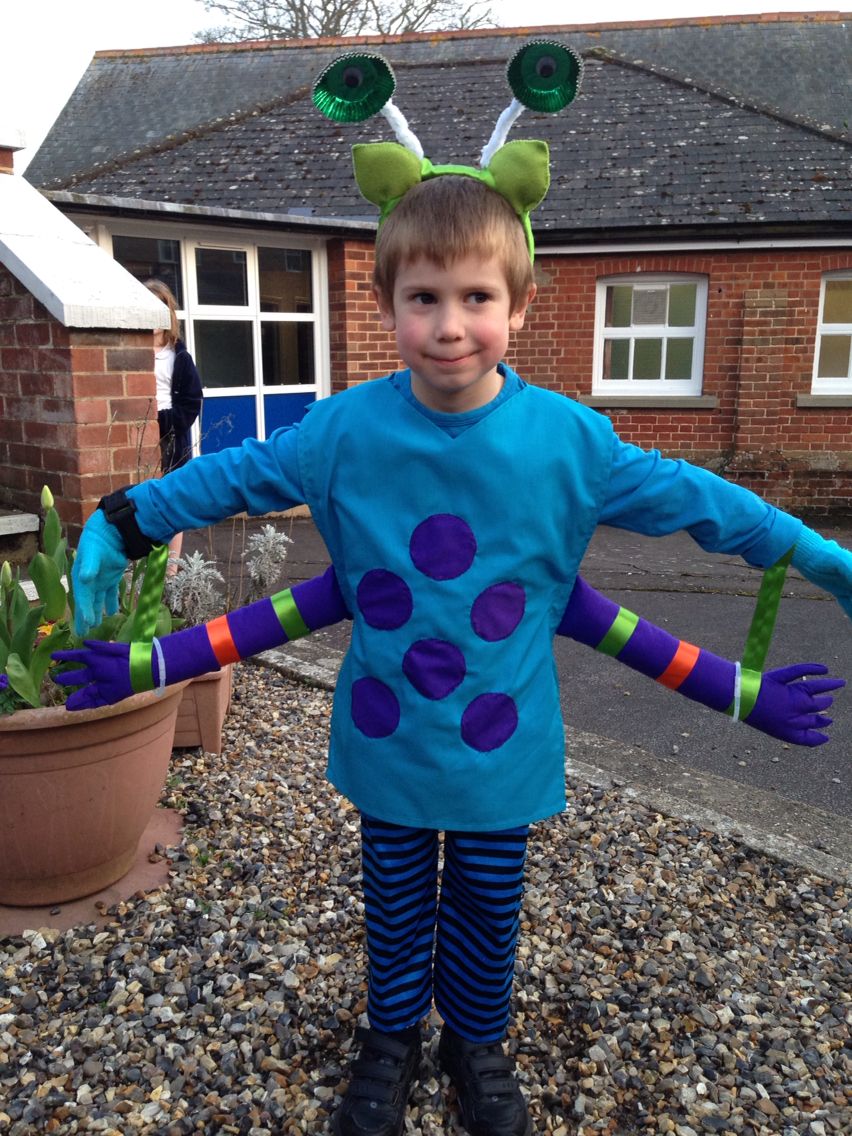 pic source: pinterest.com
#25. Ghost Costume:
You can pick up ghost costumes either online or from nearby markets. Or better than that, you can create it all by yourself. All you got to do is simply take some bandages and wrap your little baby in them. Top it off with some dark makeup around the eyes.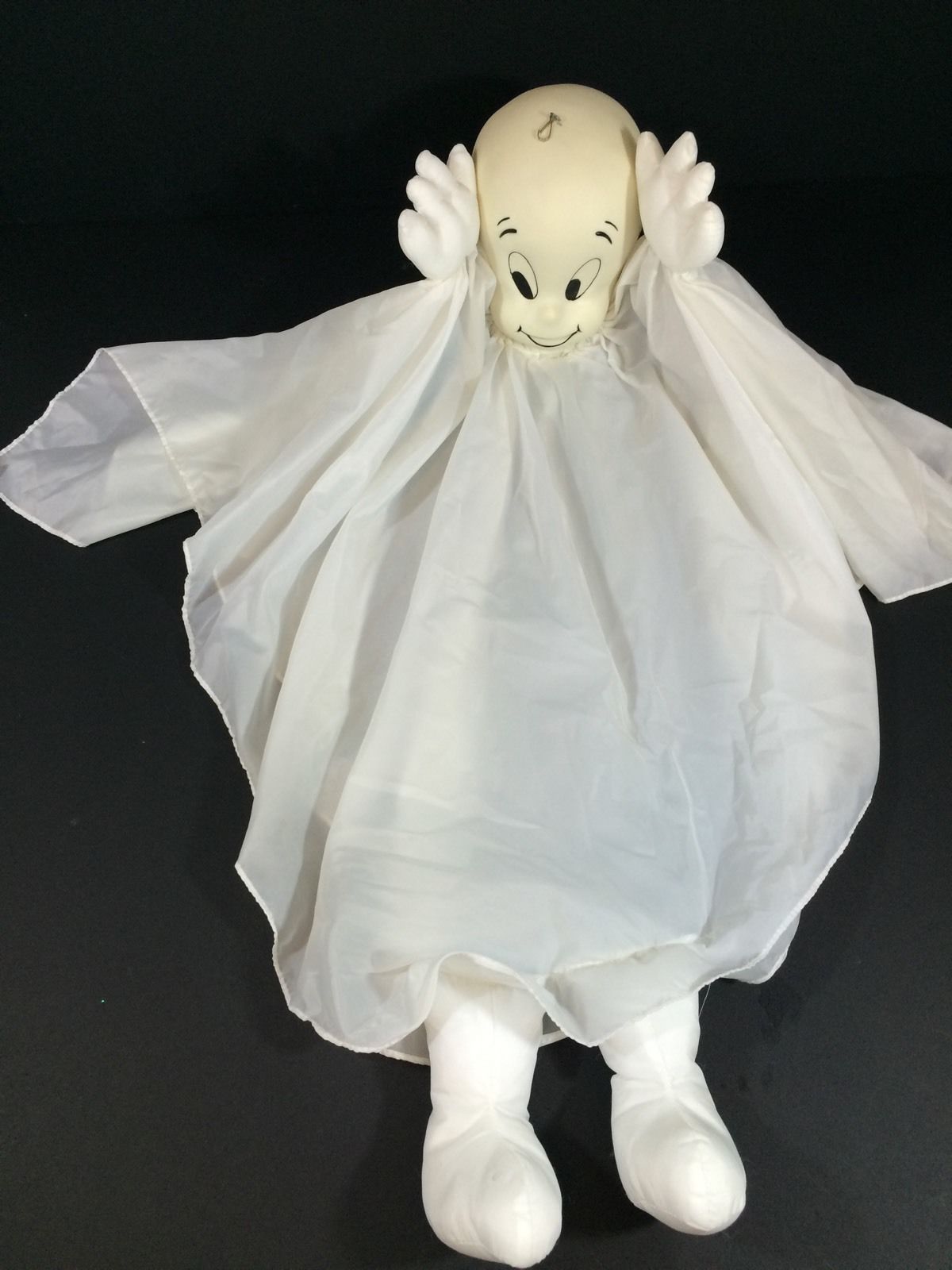 pic source: wikia.com
#26. Pinata Costumes:
Get a colorful Pinata costume for your child to give her a vibrant and cheerful makeover. You can also make this at home.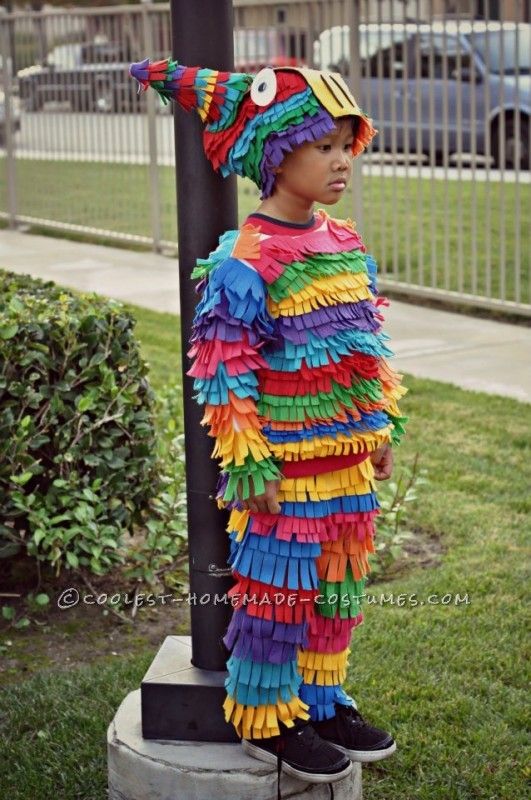 pic source: coolest-homemade-costumes.com
#27. Severed Head Costume:
Get your child to wear a severed head costume. This is gonna be the scariest of all costumes you can buy for your child.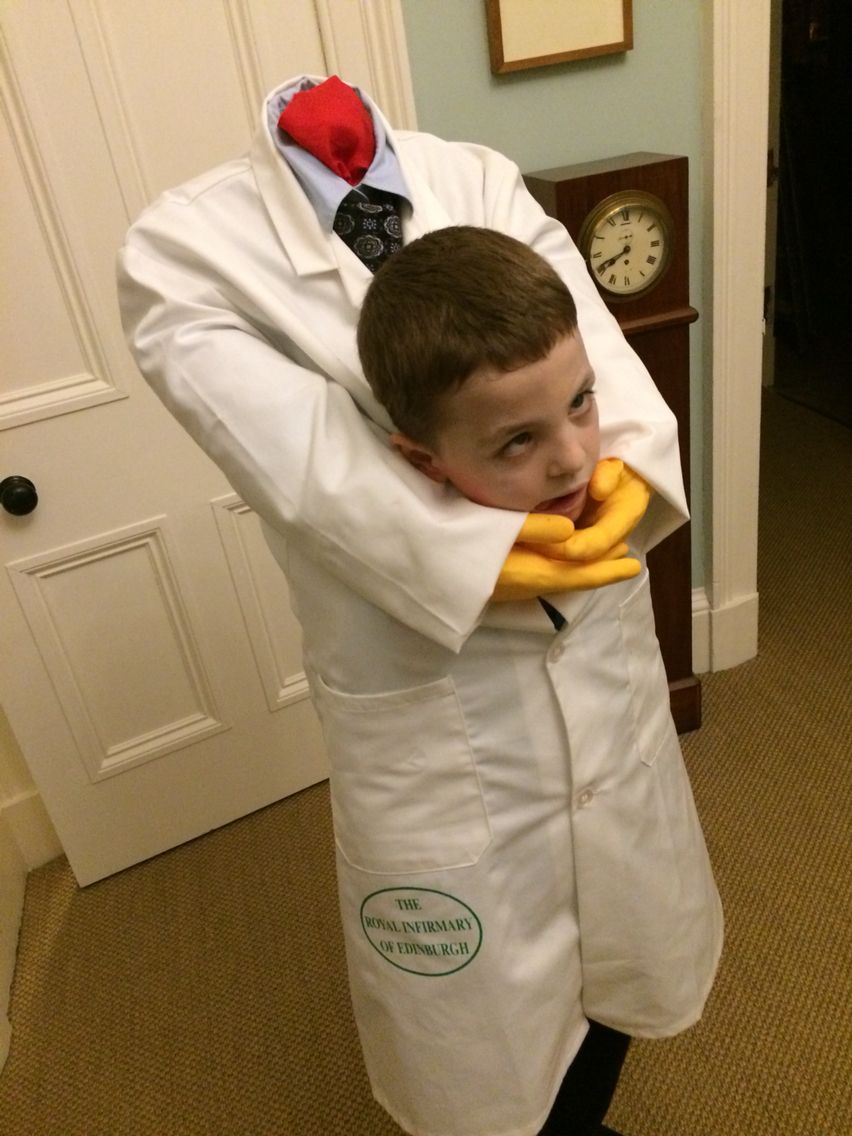 pic source: pinterest.com
#28. Skeletal Costumes:
You may get a Skeletal Costume for your child. Adorn it with some feather hats, Skeletal makeup, and some grave-yard flowers. This costume is sincerely gonna beat all other costumes in terms of scariness.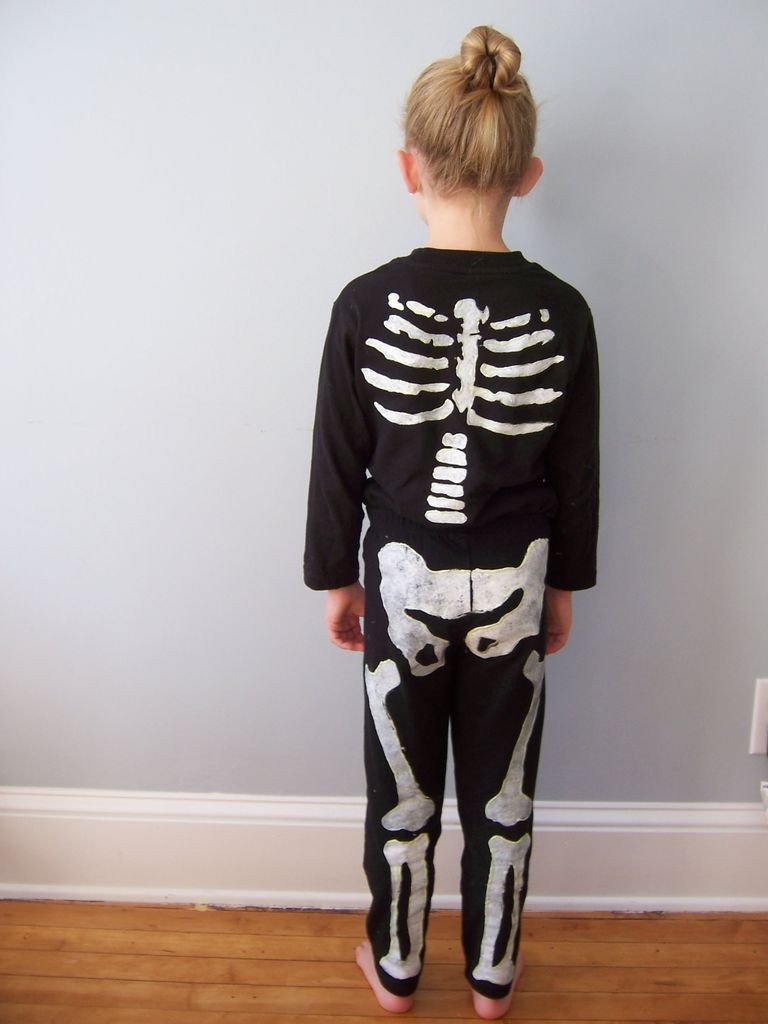 pic source: instructables.com
#29. Creepy Undead Girl Costume:
Make it appear like she has been murdered and there is blood spilled all over her belly but still she is smiling sitting on her own pool of blood.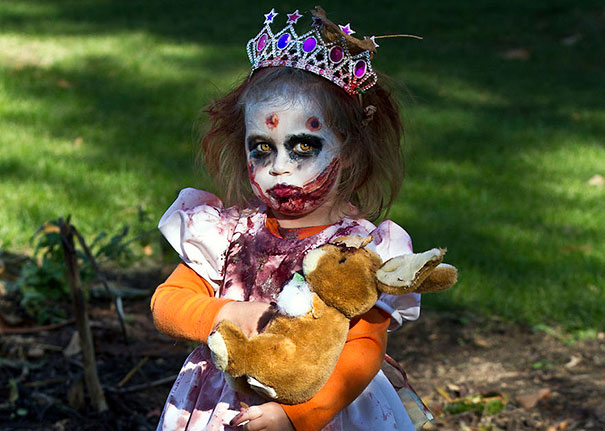 pic source: flickr.com
#30. Zombie Nurse:
you can dress up your child in a zombie nurse costume with her mask full of blood and gory flesh popping out of her head. Nurse costumes are very popular during Halloween.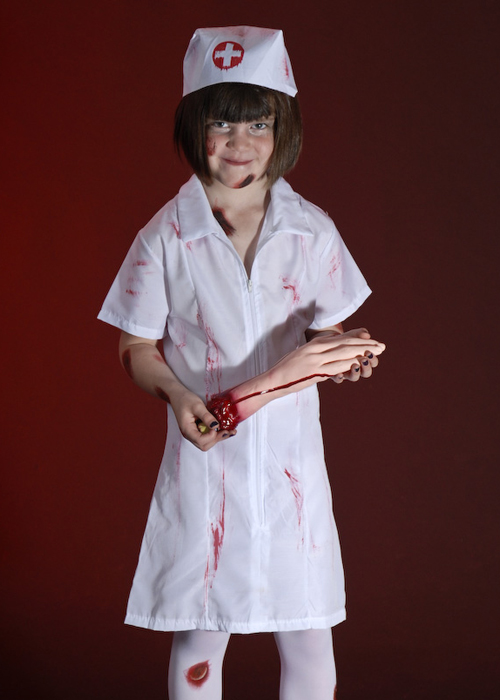 pic source: struts.co.uk
Hence this was my list of 30 Halloween costumes for kids. Comment below and let me know how you liked it. If you have any other ideas then do share that. If you liked this article don't forget to share it with your friends and family on social media sites. You can also follow this site on various social media handles for regular interesting updates in my words.
Happy reading!