If you like entertaining during the holidays, there's one thing that you can't go without. This thing isn't food or some form of entertainment (though those are important too).
It's a quality dining table. It's the heart of any home. Without it, your friends and family will have no place to gather to eat.
Dining room tables are also the host of family game night, and your child can sit at it to do their afternoon homework. How do you choose a good piece of furniture that can handle all these jobs?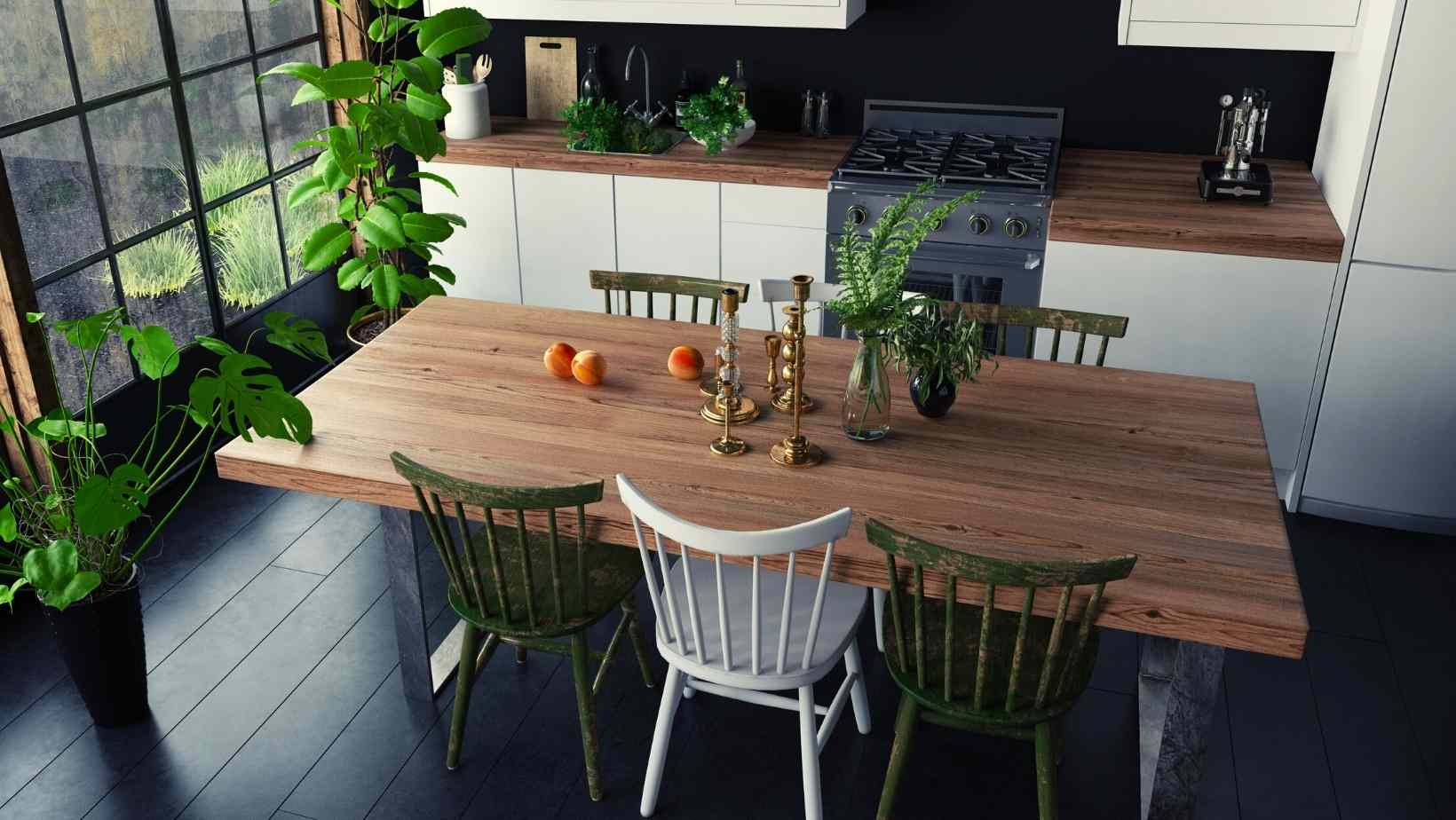 We can help you with that. Don't go shopping for your dining room furniture until you read this article.
Budget
The last thing you want is to fall in love with a gorgeous solid wood dining table only to come up short when it comes time to check out. That's why it's so important for you to set a budget before you go shopping.
Once you have a budget in mind, do your best not to exceed it. This is the best way to find stylish furniture that won't break your piggy bank.
Space
You can't buy a huge rectangular table if you don't have enough space to accommodate it. You'll have to measure your dining room before you head to the store to save yourself some heartbreak later.
Table-to-Wall
You want your guests to be able to get out of their seats without being blocked. To this end, you need to allow for a little over 40 inches between the wall and your table.
Table-to-Furniture
Your walls aren't the only thing to consider when you're measuring your dining room. You don't want your guests bumping into furniture and knocking things over when they get up or try to sit down.
As you did with your wall, allow about 40 inches between the dining room table and the other furniture in the room. This will give everyone enough space to move around comfortably.
Types of Dining Tables
The next thing you need to decide on is dining table designs. In this case, the shape. It's important to not base your decision on style alone.
The shape of the table will determine how it will fit in the space. For example, a round table will work a little better than a rectangular one if you have a small dining room.
Round Table
If you don't have that much dining room to work with, a round table will be your best bet. They're a little more compact than the other two styles you've got to choose from.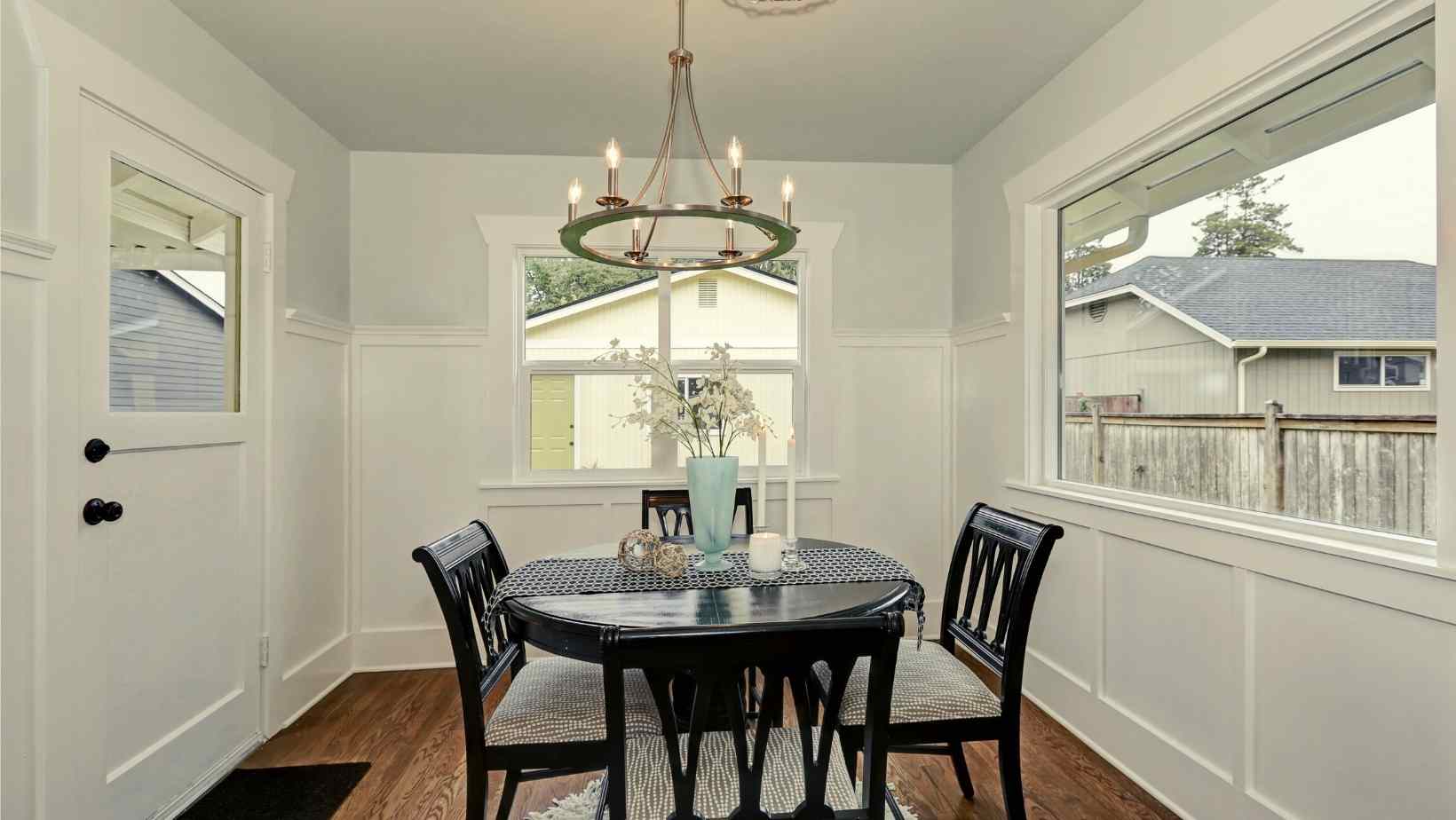 This is because they don't have any sharp corners, which is another plus. No sharp corners mean there's no risk of bumping into it and hurting yourself.
We will warn you that having a huge round table isn't that great for seating a large crowd of people. It will be hard for your guests to reach across it to serve themselves food.
Rectangular Table
Rectangular tables work if your dining room is on the long and narrow side. It will give your guests plenty of room to navigate around, and they should be able to lean across it fairly easily to serve themselves.
They do take up a little more room than their round counterparts but don't worry. There's a trick you can use to save some space.
Use benches for seating instead of traditional chairs. You can slide them under the table when they aren't being used.
Square Table
Square tables carry some of the advantages and disadvantages of the other two styles. They create an intimate setting because everyone is equally spaced apart. They only work in rooms that are squared-shaped.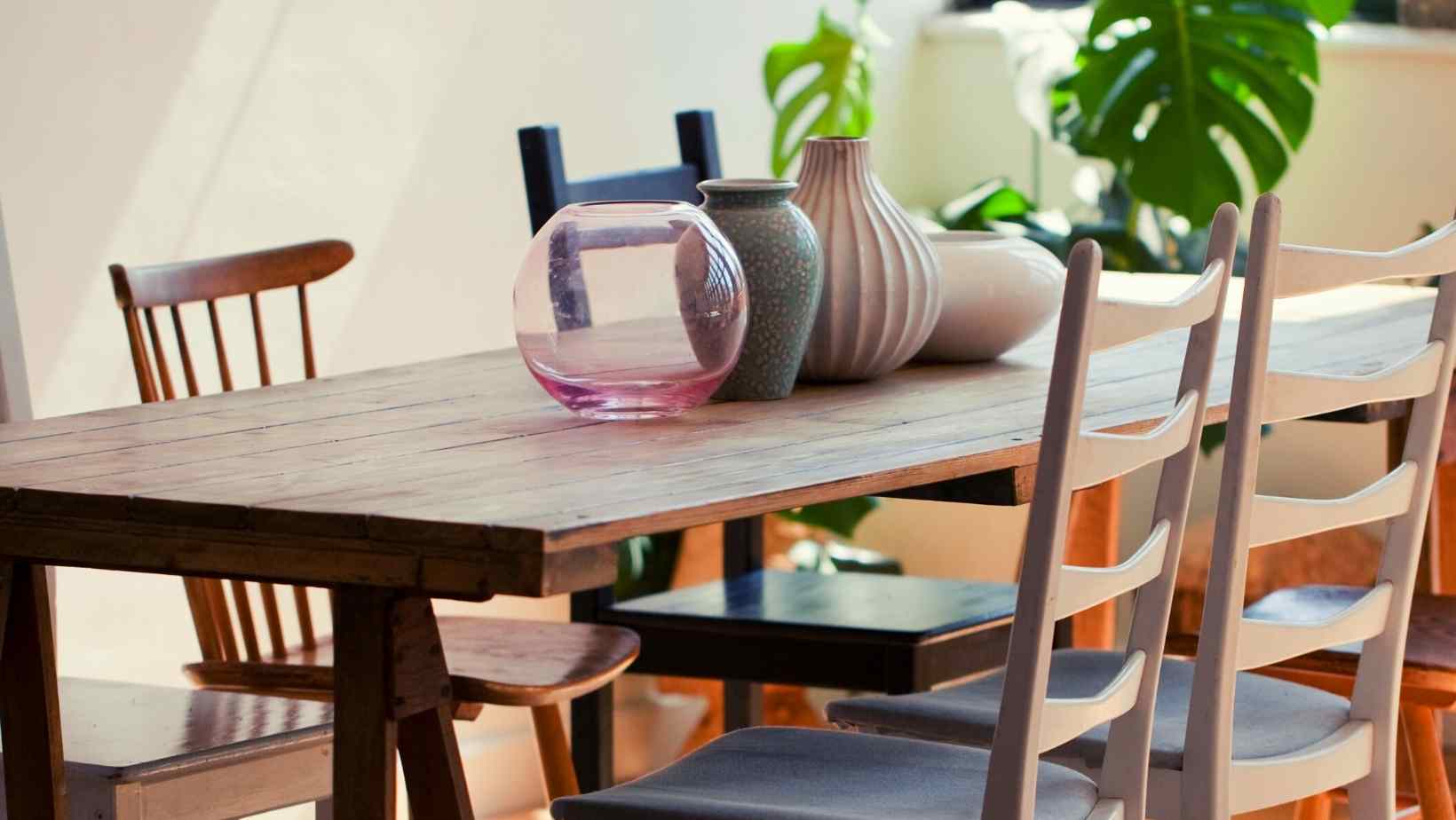 If you go for a large square table, it will be hard for your loved ones to reach across to serve themselves.
Material
Once you have a shape in mind, you'll have to choose a material. Wood tables have a rustic feel that provides a sense of warmth in any room that they're in.
They're also pretty durable, but they do take regular upkeep if you want to stop them from rotting and collecting insects. Banquet tablecloths create a much more modern look and are a little easier to maintain.
If you're looking for something simple to clean, glass is a good option. You can discover more here to see your material options. For now, let's move on to functionality.
Functionality
A lot of things will be happening at your dining table. Kids will sit at it to do their homework. You may use it to have game nights and host holiday get-togethers.
That means you'll need to opt for functionality. Find one that will allow you to adjust its height. Some can double as a desk, as well.
Chairs
If you already have your chairs picked out, you may want to choose your table around them. Some people elect to have their chair covers match their other furniture.
You can go with clashing colors and styles if you wish to create some visual interest. Again, you don't have to buy chairs. You can get benches and tuck them under the table when you're not using them.
Choosing the Best Dining Room Tables for Your Home
If you see a lot of guests throughout the year, you're going to need a proper dining table. It's not only a place where you and your family can eat.
Dining room tables serve multiple purposes. It's important that you choose the right one. We hope that you're able to use this guide to pick one that can handle everything you throw at it.
Are you looking for more ways to dress up your home? Check out the Decor section of our blog to learn how to choose additional furniture for your house.